China Society is a supporting partner of this event. Please apply ASAP if you are interested in joining the China Society delegation. Since tickets are limited, our staff will contact you to confirm the tickets and follow up with the payment after receiving your application.
China Society Delegation to
The Asia Society Annual Awards Dinner
Washington, D.C.
Wednesday, June 15, 2011
The Ritz-Carlton, Washington D.C 1150 22nd Street N.W. Washington, D.C. 20037
6:30 pm - Reception
7:30 pm - Dinner
Distinguished Honorees include: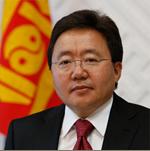 Tsakhiagiin Elbegdorj, President of Mongolia, who will receive our Distinguished Statesman Award in recognition of his notable accomplishments leading Mongolia through the political and economic reforms of democratization and privatization. As one of the leaders of the revolution of 1990, Mr. Elbegdorj played an instrumental role in peacefully bringing an end to communist rule in Mongolia.

Dr. Henry Kissinger, former Secretary of State and recipient of the Nobel Peace Prize, who will receive our Lifetime Achievement Award for his long-standing and outstanding contributions to the defense, security and stability of the United States, as well as his achievements in the fields of American foreign relations and public policy.

Lael Brainard, Under Secretary of the Treasury for International Affairs, who will receive our Public Policy Award in recognition of her role in strengthening U.S. leadership in the global economy. Previously a senior fellow at the Brookings Institution and the U.S. Sherpa to the G-8, Ms. Brainard has shaped public policy to foster economic growth and address transnational economic challenges.
Jim Rogers, Chairman and CEO of Duke Energy, and Wang Yusuo, Chairman of ENN, who will jointly receive our International Business Award in honor of their partnership to collaborate on clean energy development. Duke Energy and the China-based ENN Group have agreed to partner in various areas, including biofuels and energy efficiency, with the aim of developing technologies to help build greener cities in the United States and China.
The event will be attended by over 300 distinguished guests, including key policy makers and senior officials from the Obama Administration, Members of Congress, the Asian diplomatic corps, U.S.-Asia policy experts and Asia Society's Board of Trustees and Global Advisory Councils from our eleven offices in Asia and the U.S.
Fee
Regular Member/Guest: $250 per ticket
Advanced Member of China Society: $200 per ticket
Contact: Mr. Shuai Liang or 347-827-8856