2008 US-China Forum & Gala
---
2009 Spring Festival Gala
At Strathmore on Jan. 18, 2009, Chinese American art organizations in the Washington DC together showcase their vocal, instrumental, dance, and acting talents for your enjoyment. Click here for information and registration.
---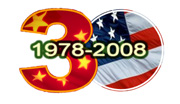 2008 US-China Forum & Gala

中美建交30年、改革开放30年、恢复高考30年

论坛、晚宴暨庆典
Commemorating and Celebrating
30 Years of
Normalization of Sino-US Relations
China's Economic Reform and Opening-up
Higher Education Entry Exams
Sunday, November 23, 2008
2:00 PM – 6:00 PM (FREE forum)
6:00 PM – 11:00 PM (gala, $50/regular ticket, $100/VIP ticket)
Bethesda North Marriott Hotel & Conference Center
5701 Marinelli Rd. North Bethesda, MD 20852
Formal Attire
Free Hotel Parking
Hosting Organizations:
The China Society
The Union of Chinese American Professional Organizations
The World Bank and IMF Chinese Staff Association
Supporter:
The Asia Society
Contact:
Shuigeng Xiao, 240-432-2912, shuigenxiao@yahoo.com
Yeqing (victor) Li, 202-294-6388, yeqing.li@gmail.com
Hua Wang, 703-328-3910, chenghuawang@yahoo.com
Zengjian Hu, 301-792-8576, huzengjian@hotmail.com
Program
2:00 PM Opening Remarks
Shuigeng Xiao, Co-chair, Forum Organizing Committee
Minyue Lin, Board Chairman, UCAPO
John Dickson, Chair, World Trade Center Association Peace and Stability through Trade Committee
2:15 PM Session I: "China's Economic Reform and Opening-up"
Session Chair: Hua Wang, Chairman, World Bank-IMF Chinese Staff Association
Jiayi Zou, Executive Director, World Bank
Shangjin Wei, Professor & N.T. Wang Chair in Chinese Business and Economy at Columbia University's Graduate School of Business
Haiyan Li, Counselor for Economic Affairs, China Embassy at the United States
William Chang, Program Director, US National Science Foundation
Yibin Mu, Senior Capital Market Specialist, The World Bank/IFC
3:45 PM Networking Break
4:15 PM Session II: "30 Years' US-China Relations and Prospects in the 21st Century"
Session Co-Chairs: Yeqing (Victor) Li, President, The China Society
Matthew James Salmon, US Congressman (Arizona-R, 1996-2001), Vice Board Chairman, National Committee on US-China Relations
Martha Holdridge, Widow of the late Ambassador John Holdridge (Deputy US Chief of Mission under George H. Bush to China 1973-75, Assistant US Secretary of State)
Jiawen Yang, Professor of International Business and International Affairs, Elliott School of International Affairs, George Washington University
Zongyou Wei, Fulbright Scholar at Georgetown University Department of Government; Associate Professor, Shanghai International Studies University School of International and Diplomatic Affairs
Jin Ju, Minister-Counselor for Science and Technology, China Embassy at the United States
Donald Riley, Former Vice President, University of Maryland; Board Chair, Internet Equal Access Foundation
5:45 PM Forum Adjourns
6:00 PM Gala (Co-chairs: Patrick Lu, Tao Ni, Lili Zhang)
* Phone number is crucial for emergency situation. Registration with complete information will have priority.
** The sponsors maintain the right to take photos and/or record the events by audio or video for documentation and information sharing purposes. All participants are encouraged to follow all safety procedures during the event. The sponsors are not liable for any damage or injury.